7.
Requesting a Ad free license (Optional)
The token request tool is used to request a sccmtspsi token for an operator. 
Click to open the downloads page to get the Token request tool.
Note: dot Net framework 4.5 or above is required to run the Token request tool.
Launch the tool from the start menu as per the below image.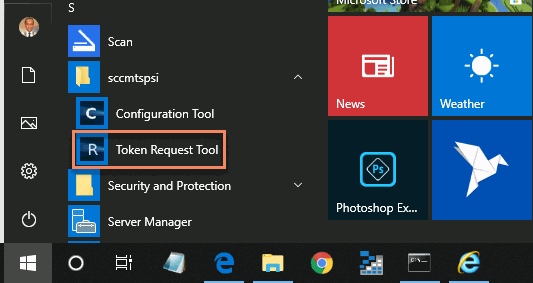 Paid license for Users/Organisation are complied based on the following attributes. For organisational license tokens user based attributes are ignored.
Active Directory attributes : company, mail, givenName, sn, streetAddress, l, co, userGUID, domainGUID.
! ! Important notice !! : The request token generated by the 'Token Request Tool' is encrypted using encryption standards detailed in Advanced Encryption Standard (AES) and ISO/IEC 18033-3:: Block ciphers. For privacy and security reasons, We DO NOT save any of the above attribute data into our systems after issuing the license token. So if the license token is lost or tampered with, the licensee will have to re-submit a newly generated request token to receive a new paid license token which will be charged separately. It is best practice to backup your license token to a safe location within your network.
Note:
Purchase a Paid sccmtspsi license token, only if you have used the Free license token first. Check if sccmtspsi works within your environment.
Paid license tokens can only be issued to a person (Employee, Contractor etc) or for an Organisation.
The Paid license token owner should have all of these attributes set. [company, mail, givenName, sn, streetAddress, l, co, userGUID, domainGUID].
A Paid license token cannot be shared between two people. But Organisation license tokens can be used by all user with a Domain whose domainGUID  was used for licensing.
Any change to the above listed active directory attributes will require a new Paid license token [Reissue of a token will incur cost and completion of a declaration form).
Prerequisites : This tool requires dot Net framework 4.5 or higher.
Open the token request tool and input the username (samaccountname or userID) of the operator to whom the token will be issued. In addition to the username also provide the Realm name of the Realm to which the token will be assigned.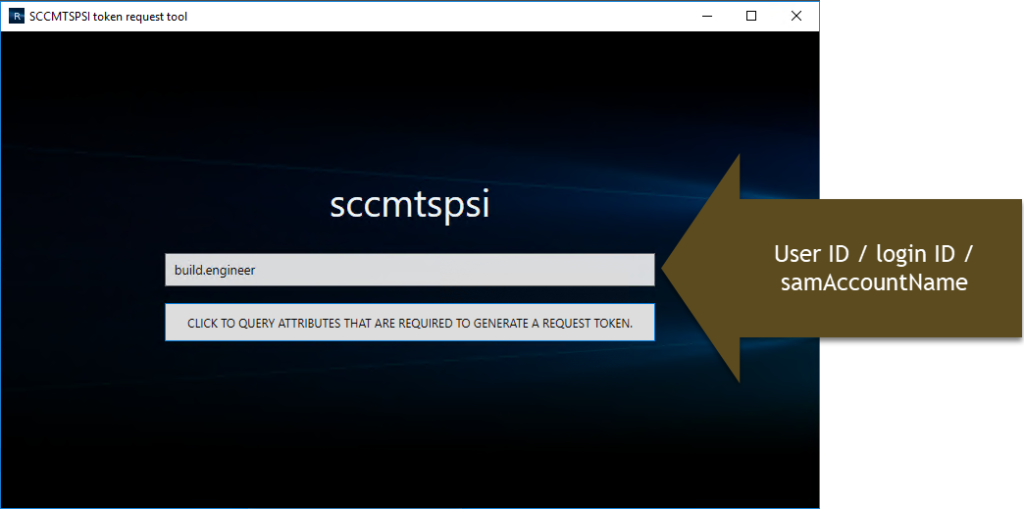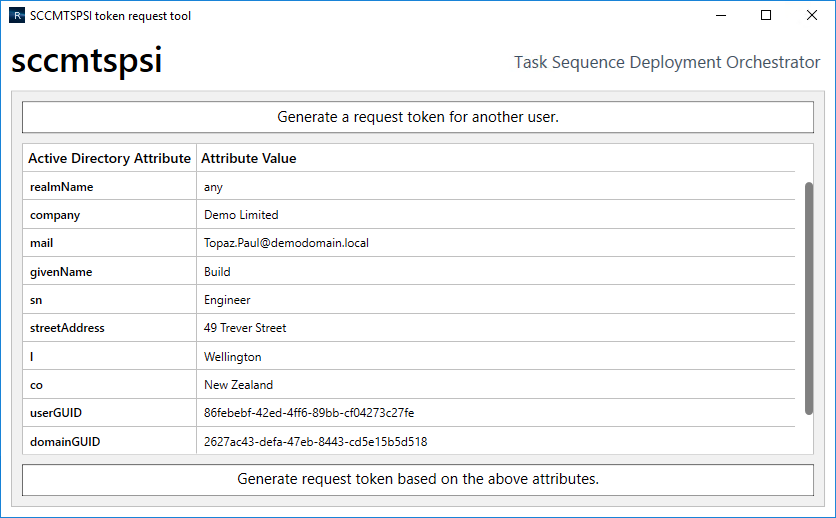 Save the request token (*.rtoken file) to a location on your computer.
Send the request token to us tokenrequest@sccmtspsi.com .
You will be emailed a License token after your payment is received and the request token is processed.
Place the License token(s) inside the "token" sub-folder in the realm configuration drive.